WREATHS
My wreaths are thick, fresh, sturdy, and affordable.
Wholesale Wreaths
Most of my wreaths, garland and bows are sold on a wholesale basis however the prices listed on my site are for retail customers. My minimum order for wholesale pricing is 4 dozen wreaths or bows or sometimes 4 boxes for large bows.
Please email me or call 1-877-4-A-WREATH for a prompt response to your request for
wholesale pricing
.
Corporate Gifting
My wreaths are made to impress the recipients on your list of family, staff or clients. The wreath is fresh, well-made and tastefully decorated in a traditional style sure to please everyone.
See the traditional corporate choices.
My minimum order for this service is 10 wreaths. Corporate pricing:
1 to 10 wreaths - $36 each inc. shipping
11 to 25 wreaths - $34 each inc. shipping
26 wreaths and up - $32 each inc. shipping

How to Order
---
Fundraiser Wreath Special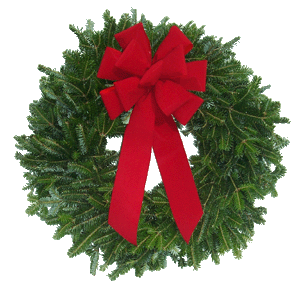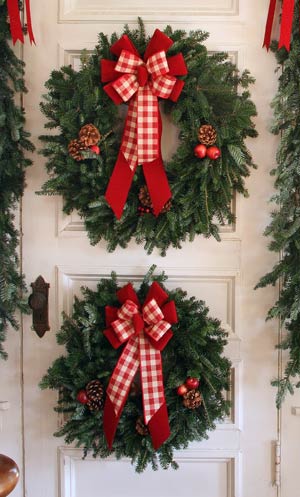 My full, well constructed garland in 5 yard lengths is a great add-on item to sell as you go if you don't want to pre-sell it. Just start with 5 or 10 pieces and have them on hand. The garland will sell itself without all of the pre-order footwork. Just remember to start small.
This fresh Balsam or Fraser Fir door size wreath (12" frame, 24" OD) and beautiful red velvet 9" Classic Deluxe bow with 15" tails is high above the standard of the average mass produced wreath, yet it is only $10.75 per wreath/bow. My customers tell me that this lush wreath and fancy bow easily retails for $18.00 and up.
New Fundraiser customers get one free dozen bows with 10 dozen bow order!
This is an excellent way to raise money for your cause with very little effort. This wreath has been a favorite with Scout troops. I guess Scouts learn more about marketing than actual wreath making these days!! Everyone wins, the Scouts make more money with less effort and the customer gets a professionally made wreath that they are proud to put on their front door. It is sturdy, full and very fresh made. Whatever your organization or cause, this wreath with bow will sell itself and market itself as well for future years.
Some of the other organizations that have used my Fundraiser Wreath to raise money are the Humane Society, different church groups, day care centers, Lion's Club, 4th and 5th graders, and others. Whatever your organization is, if you need to raise money and are considering selling wreaths, please call me with any questions. The buying minimum is only four dozen, and unless you already have a customer base you should start small. I have 32 years in the business and I believe I can help you increase the success of your fundraising efforts. Buying a ready made quality wholesale product for resale greatly simplifies the fundraising process and greatly reduces the work load on the volunteers.
And also, once you've experienced some success with this simple fundraiser, there are ways to increase your revenues by adding a second or third bow choice or even by having extra red velvet bows ready to sell separately. The additional bow choices, plain or fancy, could increase your revenues by 2 or 3 dollars per wreath. Through my many years in retail I have always sold many, many more bows than wreaths. Believe me, you will have some takers.
And finally, please take advantage of my many years of experience and call me with any questions or concerns or even suggestions. I would be happy to help make your generous volunteerism more fruitful whether or not you choose to buy from me. And even if you don't buy wreaths from me I would still love to supply you with premium bows. Remember, the bow sells the wreath!